His next stop on this European journey was naturally Paris, about which he had learned an enormous amount, and where many of the modern art movements he had studied had originated. He had been taught that Paris was a shining example of enlightened urban renewal under Baron Haussman, but found that he preferred the complexity and scale of the Marais to the grandeur and uniformity of the façades lining the boulevards driven ruthlessly through the mediaeval plan. It was quite clearly better than the deadly grid imposed on the centre of Lisbon, but behind the façades along the boulevards and squares, the quality deteriorated and the planning of Barcelona seemed to offer a much more interesting model. But Paris, and especially the Louvre, was a stimulating experience and even at that depressed post-war period there were many small galleries and bookshops where he browsed and bought a few prints and many books to take back. In one of them he discovered the work of Victor Brauner, who remains one of his favourite artists.
Le Corbusier, based in Paris, was at that time the moving spirit behind CIAM, but younger architects were later to rebel against the dogmas and worn out pre-war ideas of the 'heroic' phase of the Modern Movement. Eight years later Pancho was invited to come to the inaugural meeting of Team 10, which was formed by a group of dissidents from CIAM : Aldo van Eyck, Alison and Peter Smithson, James Stirling, Jacob Bakema, Shadrach Woods, Georges Candilis, Alexis Josic and others. This first meeting was at Royaumont, near Paris in 1962, and was the start of a long association with Team 10.

At these quite informal meetings, architects presented their work, which was discussed by the others. Pancho did not have a great deal in common with them, apart from his dislike of what CIAM represented. But he was always very well received, because they recognised the originality of his work, especially his architecture, and appreciated the clarity of his criticism which was, as always, delivered without giving offence. He felt, all the same, that he belonged to a different world. Most of the architects who attended Team 10 worked in a milieu terribly constrained by regulations, conservative demands for preservation and conformity to the character of existing buildings. They were much concerned with issues of social progress, of equality, repetition and the uniformity that came with industrialisation, and a building industry that distanced the architect from the process on site.

They envied him his freedom to be creative and ability to carry out his projects free from official bureaucratic constraints. Another difference was the simplicity of building construction in Mozambique, and predominance of craft techniques, in which he could be closely involved with the execution, sometimes working himself on site, setting out or painting murals. He maintained his contacts with Team 10 members and there were meetings in London, Berlin, Lisbon, Barcelona, Perugia and some of them even travelled to Mozambique to see his work. Despite their differences, he learned something from them and their special guests, like Louis Kahn, that began to have an effect on some of the buildings he designed during the sixties. He coined the term 'American Egyptian Style' to describe some of Kahn's work, in an article he wrote for 'World Architecture 1' edited by John Donat, and then went on to use the term for some of his own buildings with pyramidal roofs and formal symmetrical plans. Examples are the 'Yes House' and the pyramidal kindergarten.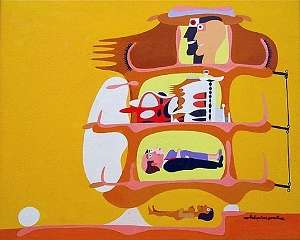 Guedes - Painting based on 'Smiling Lion' apartment section - 1982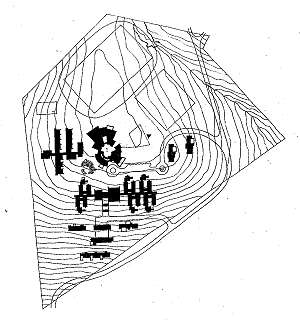 Guedes - Waterford School, Swaziland, Site Plan : 1963 - 1972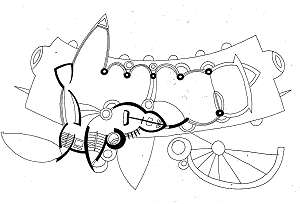 Guedes - Hotel at Reuben Point, Lourenço Marques : 1952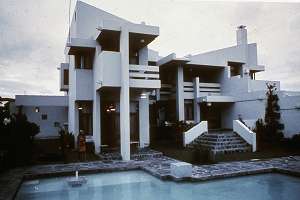 Guedes - Salm House, Lourenço Marques - 1963 -1965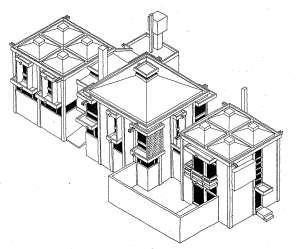 Guedes - 'Yes House', Lhanguene, Lourenço Marques : 1961 - 1962