DÉCIMO SEGUNDO LIVRO
A HYPOTHETICAL INDUSTRIAL ZONE
---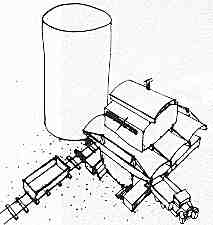 Some factories were the barest of sheds which from small beginnings grew and grew all over their sites.

Many were no more than light roofs and walls to shelter quite large but simple production lines. When the machines were exchanged for larger, more productive ones, the factory would be doubled, the original machine going on working until the new one would be ready to start. Then the old machinery would be carefully dismantled to be reassembled elsewhere further north in Mozambique in another factory.

Others were prestige jobs where everything had to be right to begin with.

In most factories the spaces were required to be free of interior supports. This was achieved by spanning the spaces with light metal trusses and arches made up of angle irons or reinforcing rods, and roofing them in asbestos cement or corrugated iron sheeting. In the smallest town there was always a blacksmith who would cut the rods and weld up the roof trusses for a song.
---
| | |
| --- | --- |
| Guilbey Dicca, Destilaria, Marracuene | |
---
| | |
| --- | --- |
| | Factory for Batatas, Isando, Transvaal |
---
| | |
| --- | --- |
| Factory for Cerveja Reunidas, Lhanguene, LM | |
---