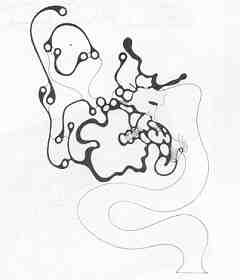 Those houses were a pretext for a manifesto: - Architects as Magicians, conjurers, Dealers in Magic Goods, Promises, Potions, Spells. Myself as Witch Doctor. It finished off something like this:
"The mechanical and abstract rigours of our various systems and styles appear to be concerned with taking away, disguising, obliterating, the evidence of our whole selves. These self imposed systems do not deal with people and life, they asphyxiate by growing inwardly into themselves.
We must become technicians of the emotions, makers of smiles, tear jerkers, exaggerators, spokesmen of dreams, performers of miracles, messengers, and invent raw, bold vigorous and intense buildings without taste, absurd and chaotic, to invent an architecture the size of life. Buildings shall yet belong to the people, architecture shall yet become real and alive, and beauty shall yet be warm and convulsive.